See the Social-Media-Made Off-Roader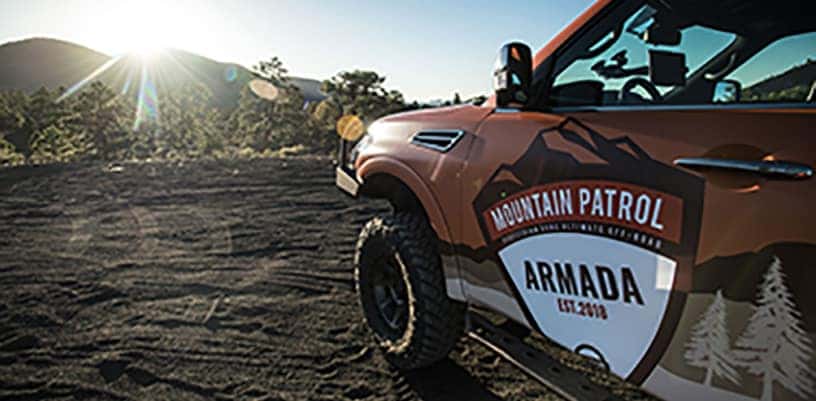 Nissan Armada 'Mountain Patrol' social media-built project vehicle debuted at Overland Expo WEST over the weekend to the delight of overlanding enthusiasts across the country. Social media followers of @NissanUSATrucks Instagram and Facebook pages helped guide construction of the one-off project with their votes and input. Using the rugged and capable stock Nissan Armada as a canvas, the Mountain Patrol project vehicle reflects social media users' preferences for body-wrap design, tire specs, roof-mounted tent, and more. Take a look at the finished project here and then view our in-stock Nissan Armada vehicles for comparison – and then pick one out to test drive today!
"For those family adventure fans who aren't familiar with the term 'overlanding', all they need to do is look at the Armada Mountain Patrol to understand that this is not glamping, not a day trip to the local forest – it's adventure taken to new heights," said Brandon White, director, Chief Marketing Manager, Nissan North America, Inc. "The Nissan Armada, with its rugged platform, best-in-class 390-horsepower 5.6-liter V8 engine, 8,500-lb. towing capacity, and massive interior and cargo space, is an ideal starting place to build an authentic overlanding vehicle."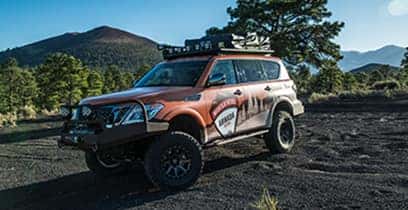 With the Nissan Armada Mountain Patrol, you could take your adventure to new heights, literally, with a roof-mounted camping tent. And you can go farther off the beaten track with the custom comfort and convenience built right into the Mountain Patrol. This project includes a Lowrance navigation system and Rugged Radios off-road radio system. Storage systems include a Rhino Racks aluminum back-bone pioneer tray, ARB pull-out drawer system, Pelican gear cases, Dometic refrigerator/freezer and Otterbox Venture coolers.
Icon Vehicle Dynamics contributed the Armada Mountain Patrol's heavy-duty coil-over suspension and extended A-arms to fit the fan-favorite 17-inch Icon Rebound wheels and Nitto Ridge Grapplers 35/12.25/17 tires. A Magnaflow cat-back exhaust system was added to help the Armada's advanced 5.6-liter Endurance® V8 breathe easier in high-mountain air.
All this and so much more was added to this incredible project vehicle. See the complete list of features and more information on Nissan's announcement. Or watch the unveiling here!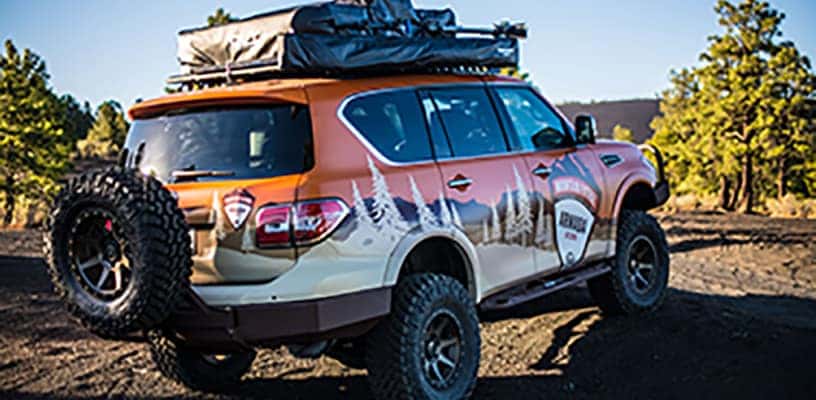 "We want to thank everyone who provided input on the design and equipment for this special Armada Mountain Patrol build," added White. "We couldn't be more pleased with the outcome and look forward to showing it at Overland Expo WEST and events throughout the summer."
The Armada Mountain Patrol was on display at Overland Expo WEST, May 18-20 at Fort Tuthill County Park in Flagstaff, Ariz. Following its public debut, the Armada Mountain Patrol project vehicle will take the road less traveled to various media and outdoor events through the remainder of the year. Watch the Nissan social media outlets to see where it will end up next!
Take a look at the everyday Nissan Armada by checking out our current inventory now. It might not have all the bells and whistles like the Mountain Patrol, but it will give you adventure just the same. Go off-roading today in a 2018 Nissan Armada.
nissan-armada-mountain-patrol-graphic
Images courtesy of Nissan Media
Join the Conversation
Comments
comments