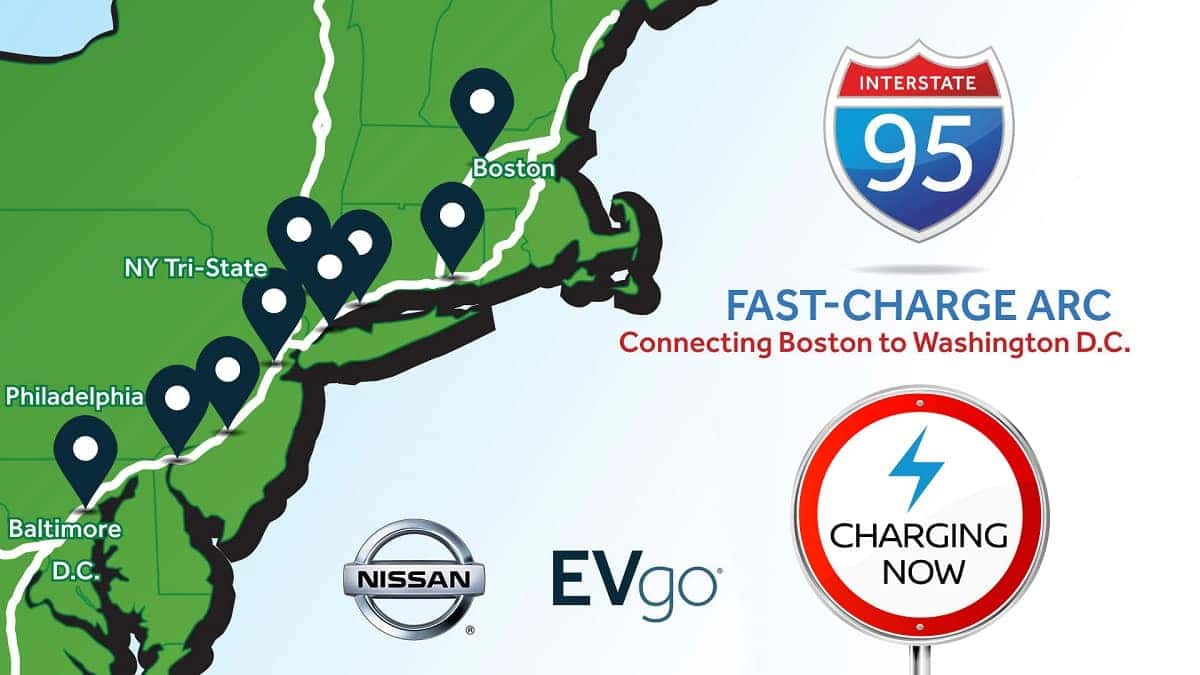 Nissan is a leader in EV sales, so it shouldn't come as a surprise it is teaming up with a leader in charging stations to create a new stretch of fast chargers to help EV drivers span a long distance. Recently, Nissan and EVgo capped off and opened the I-95 Fast Charging Arc, giving EV owners the charging stations they need to make the 500-mile Boston-to-Washington, D.C. trip.
This route comprises nine fast-charging stations with 52 fast chargers each that deliver a 50-kilowatt power output.This allows drivers to make the long east coast haul without worrying about their batteries running out or taking too much time to juice them back up. The Nissan LEAF, for example, will hit 80 percent charge in just 30 to 40 minutes on these chargers.
While 50 kilowatts of output is good for now, the EV world is constantly evolving. Nissan and EVgo considered this as they prewired the charging stations for 150 kilowatt fast chargers when they become necessary.
This system builds upon EVgo's 1,000 fast charging stations spread across 34 states. The plan is to have enough fast chargers to allow EV drivers to make coast-to-coast drives.
Nissan LEAF drivers get the added benefit of the Nissan's No Charge to Charge program that allows these owners to charge at participating stations for up to 30 minutes for free. This means you can get up to 80 percent charge without paying a dime and potentially make it from Boston to D.C. for free as the I-95 Charging Arc is included in this program. Free charging is valid for the first two years of LEAF ownership.
Want to get two years of virtually free driving? Stop by our Nissan showroom serving Saginaw, Michigan and check out the 2018 Nissan LEAF. Can't come by today? You can check our online inventory to see if we have your favorite color in stock.