New Nissan LEAF Named World Car of the Year Finalist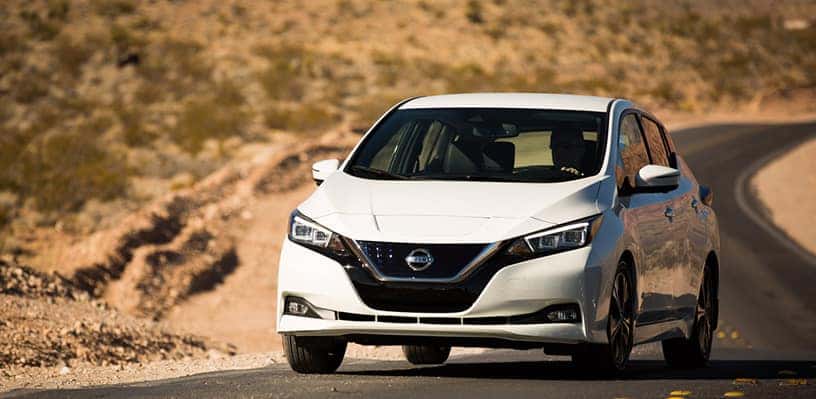 The 2018 Nissan LEAF has earned a spot on the list for the top 10 finalists in the prized 2018 World Car of the Year awards. Not only was the LEAF entered into the overall category, but also it made it to the final four in the 2018 World Green Car category as well. This all-electric vehicle was recently reinvented to provide drivers with greater range, a dynamic new design, and more advanced technologies to make your drive more convenient and safe. Take a look at what's expected with the event below, and then browse our online inventory now to start shopping for your new Nissan LEAF today!
For the 2018 World Car of the Year, each vehicle will go through a gamut of tests and physical evaluations to determine the winner. In order to get on the list of contenders, a jury of 82 motoring journalists from around the world selected the finalists by secret ballot based on their evaluation of each vehicle at exclusive drive events staged by the award's organizer.
"The world is moving towards electric cars at a fast pace, and the Nissan LEAF is one of the best," said Paul Gover, one of Australia's most respected automotive journalists and World Car of the Year judge. "You don't get onto the World Car of the Year final list if you are not extremely worthy. The LEAF is a car you have to look at when you think about the future of motoring."
Nissan is proud to say that one of our vehicles has made the list for the World Car of the Year five times in the award's 14-year history. In addition to the two categories the new Nissan LEAF is entered into, the Nissan Micra is also a finalist in the 2018 World Urban Car category. The first-generation Nissan LEAF was named World Car of the Year in 2011, with the Nissan QASHQAI making the final in 2008 and 2015, and the GT-R in 2009.
The announcement of the top 10 finalists kicks off the countdown for the 2018 World Car Awards prize-giving ceremony to be hosted by the New York International Auto Show on March 28.
To test drive the quiet, spacious, and fun-to-drive Nissan LEAF today, stop by our showroom and chat with a team member. Our team is ready to help you drive home in a vehicle that you love at a price that you can't beat.
Images courtesy of Nisssan Media
Join the Conversation
Comments
comments