Help Nissan Create a Unique Truck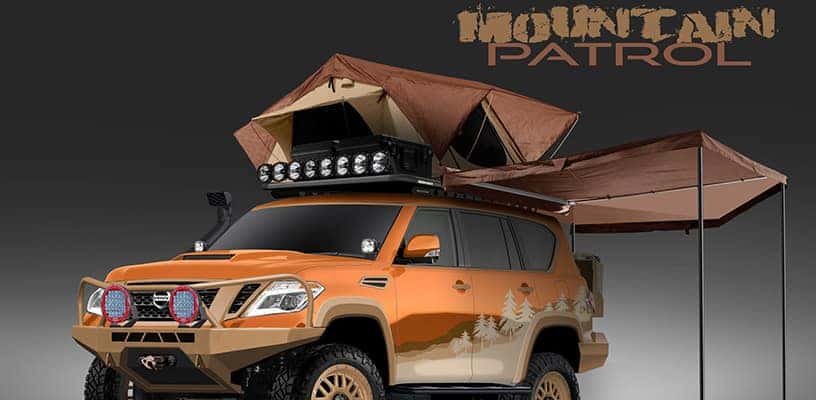 The Nissan Armada "Mountain Patrol" project vehicle is getting built with your help on Nissan Truck social media. Vote and help the team create a new truck! The Nissan engineers are taking cues from Nissan customers on social media to help create the Armada "Mountain Patrol," a dream overlanding SUV based off the family adventure-ready Nissan Armada. And with a month left until its debut, Nissan is asking fans to help get Armada Mountain Patrol to the finish line.
For the next three weeks, you can check out @NissanUSATrucks on Instagram and Facebook to vote on three categories: which tire will adorn the vehicle, which vinyl wrap will grace the exterior design, and lastly which roof-mounted tent you'll be able to fold out on the final project. When you vote, let us know what your choices were using the hashtag #MountainPatrol. Voting will continue through May 10, with the resulting Armada Mountain Patrol making its debut at the 2018 Overland Expo WEST – one of the premier overlanding events in the country – on May 18-20 at Fort Tuthill County Park in Flagstaff, Ariz.
"If you are building an overlanding rig, the Nissan Armada is a great place to start with its impressive off-road capabilities, great on-road comfort and its suite of Nissan Intelligent Mobility technologies," said Brandon White, director, Chief Marketing Manager, Nissan North America, Inc. "With help from Nissan Truck enthusiasts, the Armada Mountain Patrol will take that rugged foundation and transform into the ultimate overlanding vehicle – equipped with the latest in overlanding tech, camping comforts and tools needed to take on any adventure."
This vehicle starts with a 2018 Nissan Armada as the base and then the team adds incredible accessories that turn this already amazing SUV into something more than the sum of its parts. Nissan's flagship sport utility vehicle, the Armada, comes with a legendary 5.6-liter Endurance® V8 engine that delivers best-in-class 390 horsepower to all four wheels via a seven-speed automatic transmission. With this winning combination, you'll earn excellent control and grip in all of your everyday driving situations as well as any extraordinary off-roading trips you decide to take.
The Nissan Armada has earned its chops on the trails with a proven record that spans five decades of off-roading credibility. The 2018 Armada offers some serious multi-terrain capability packaged within an inconspicuous shell. With an 8,500-lb. towing capacity and seating for up to eight, the Armada is ready for nearly any adventure on or off road.
Beyond fan-chosen enhancements, Armada Mountain Patrol will receive a complete makeover, transforming Armada from an exceedingly capable SUV to a purpose-built overlanding machine. Complete information on the Armada Mountain Patrol will be available when the vehicle debuts at Overland Expo WEST.
Following its debut, the Armada Mountain Patrol project vehicle will take the road less traveled to various media and outdoor events through the remainder of the year. For more information on the 2018 Nissan Armada and all Nissan vehicles, visit NissanNews.com.
Check out our current inventory of in-stock 2018 Nissan Armada vehicles to start shopping for your new vehicle to adventure in. Test drive one to discover all the fun you can have in this outstanding SUV. Stop by today!
Images courtesy of Nissan Media
Join the Conversation
Comments
comments