Check out the all-new TITAN Surfcamp Edition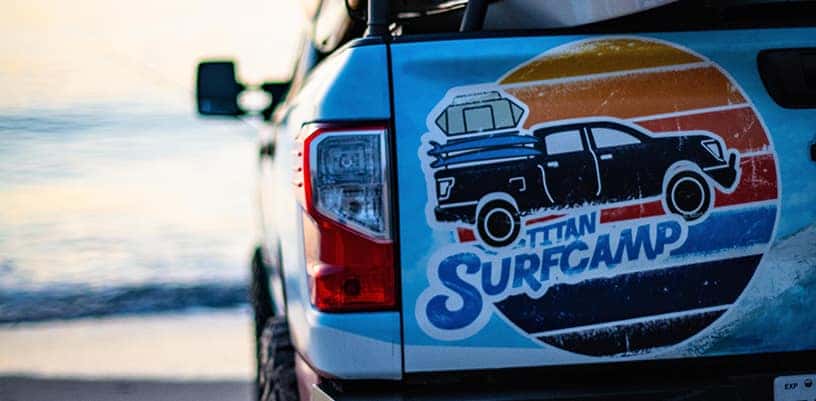 When you want to put sand under your tires and feel the sun on your face, you need the all-new 2018 TITAN Surfcamp. This Midnight Edition turned summer party-wagon is the ultimate collection of modern beach toys for any fishing, surfing, and summer adventure in the sand. It's inspired by the vintage beach trucks of the 1960s and 1970s and the TITAN Surfcamp features a retro color scheme with roots in Nissan's heritage. See what the tide brought in on this new truck and find out if it's what you need to make the most of your summer.
From its off-road tires to the rooftop tent, TITAN Surfcamp is an all-inclusive beach cruiser featuring surfboards, paddleboards, fishing rods, a solar-powered shower, and more. It is the latest in the TITAN Adventure series of lifestyle-themed project builds from Nissan.
"In the summer, beach parking lots are full of trucks hauling surfboards, fishing rods, boats, and campers as people crave the sun and sand," said Fred DePerez, vice president, Nissan North America LCV Business Unit. "Inspired by the vintage beach trucks of the 1960s, TITAN Surfcamp is a celebration of the beach truck tradition with all the modern technologies TITAN customers want when they head out to surf, shore fish and camp-out by the water."
The base of this incredible adventurer is a stock TITAN XD diesel Midnight Edition crew cab. It offers a commercial-grade ladder frame and 5.0-liter V-8 turbo-diesel engine that together create a stable and capable powerhouse to pull along your favorite toys to the beach. The spacious, five-passenger interior is ready for sandy passengers with wetsuit-inspired seat covers and heavy-duty rubber floor mats.
Bring along your water toys in the TITAN's utili-track bed channel system. Surfcamp creates storage for fishing tackle, wetsuits, and other supplies with the decked bed drawer storage system. Additional storage is available on top with a Leitner design cargo rack and Rhino-Rack USA cab roof rack.
The exterior design is inspired by the history of the Nissan portfolio and breathes new life into some old colors. The TITAN Surfcamp is matched to the exterior paint of a 1967 Nissan Patrol, the exterior wrap offers a retro color scheme reminiscent of the 1960s and 1970s surf culture. A Hot Wheels 1971 Datsun Bluebird Wagon nicknamed "JNC Surf Patrol" – a vintage beach cruiser deep-rooted in Nissan heritage – also inspired the wrap.
"With TITAN Surfcamp, it's never been easier to hit the beach," says DePerez. "I hope this amazing show truck inspires surfers, fisherman and beach lovers to add TITAN to their weekend adventures."
The TITAN Surfcamp project vehicle is the latest in the TITAN Adventure series of lifestyle-themed project builds from Nissan. Beginning with the TITAN Project Basecamp for the overland camping lifestyle, followed by the skiing-themed Armada Snow Patrol, the BBQ-themed Smokin' TITAN, and the family adventure-themed Armada Mountain Patrol, these lifestyle project trucks have started a meaningful conversation with customers connecting their passions with their trucks.
After appearing at International Convention of Allied Sportfishing Trades in Orlando, Florida July 10-13, TITAN Surfcamp heads west to the Pacific Ocean and the Supergirl Surf Pro in Oceanside, California, July 27-29.
Stop by today to test drive any of our in-stock 2018 Nissan TITAN pickup trucks and talk to a team member about securing yours. It's never been a better time to get a configuration that matches your driving needs and style at a budget you'll love. See our complete inventory online now to shop for the truck that fits your needs.
Images courtesy of Nissan Media
Join the Conversation
Comments
comments