Nissan Rear Door Alert Coming to All Four-Door Models by 2022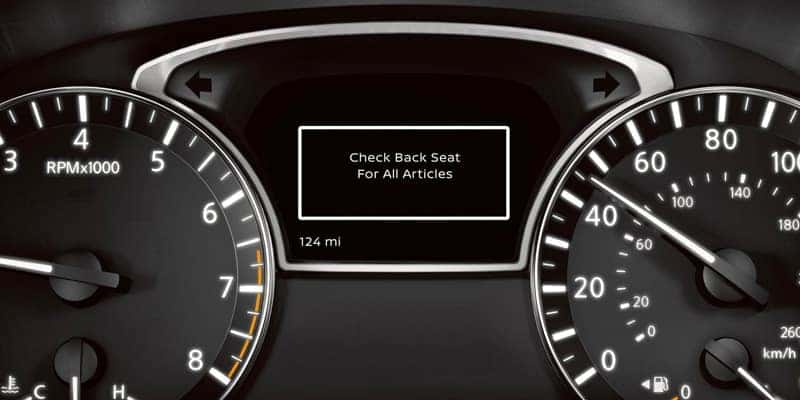 All too often, we hear horror stories about children left in hot cars. Here in the Saginaw area, we are all too aware of just how hot a car can get in the Michigan sun, so a little extra reminder of a loved one (or a gallon of milk) in the rear seat is a welcome addition. Nissan plans to make this possible in all its vehicles by 2022.
In 2019, Nissan introduced its Rear Door Alert system that uses a sequence logic to determine if there may be a passenger or item in the rear seat. If the logic triggers there is someone in the back seat, the vehicle will display a message on the instrument panel and, as a last resort, honk the horn to remind you to check the rear seat.
In its debut year, Nissan made RDA standard on some of its most popular four-door models, including the Altima, Armada, LEAF, Murano, Maxima, Pathfinder, Rogue, Rogue Sport, and TITAN. In 2020, it expanded RDA as an option on the Versa. While that amount of lineup coverage is excellent, Nissan plans to expand available RDA to every four-door pickup, crossover, SUV, and sedan in its lineup by 2022.
This expansion would include the Frontier, Kicks, Sentra, and any other models Nissan introduces between now and 2022.
How exactly does RDA know you have something or someone in the rear seats? It monitors when you open and close the rear door before and after the vehicle is in motion. If you opened the door before the trip began and did not re-open it after stopping and putting the vehicle in "Park," RDA will alert the driver via a "Check rear seat" notification in the instrument panel. If the driver leaves the vehicle without opening the rear door, the system triggers distinctive horn chirps to alert the driver of the issue.
Come by the Garber Nissan of Saginaw showroom today for a demonstration of the Rear Door Alert system and to test drive an RDA-equipped vehicle today. We are just minutes from Bay City, Midland, and Freeland. Can't make it in today? Check out our online inventory to see all our in-stock vehicles and pick one to test drive at your convenience.