Nissan Donates $250,000 to HBCU STEM Programs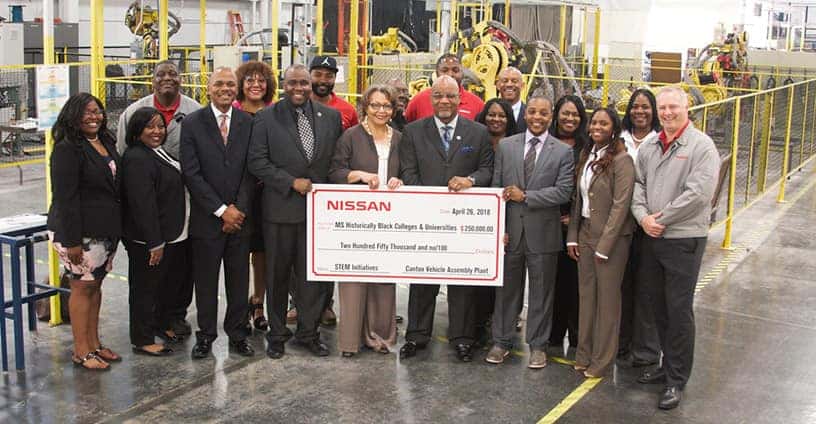 Since 2003, Nissan has been donating regularly to historically black colleges and universities in Mississippi, and is about to top $2 million provided. In the most recent donation, Nissan made a $250,000 investment in seven Mississippi historically black colleges and universities (HBCUs) to support science, technology, engineering and mathematics (STEM) programs. From their generosity, Nissan was recognized by US Black Engineer & Information Technology Magazine as a 2018 Top Supporter of HBCU Engineering Schools. Nissan is proud to invest in students and see it as a civic duty to lift up those around us to create a better future for us all.
"Our continued commitment to HBCUs, specifically in the areas of science, technology, engineering, and mathematics, is vital to fostering the minds of the next George Washington Carver or Mae Jemison," said Jeffrey Webster, director of Diversity and Inclusion, Nissan North America, Inc. "These institutions have implemented proven practices to assist students in STEM fields, and we are proud to help make their students' career dreams a reality."
The donations were presented to Alcorn State University, Coahoma Community College, Hinds Community College – Utica Campus, Jackson State University, Mississippi Valley State University, Rust College and Tougaloo College. Resources provided to each institution will be used to promote a range of STEM-related programs and departments, including applied sciences, engineering, math, and computer and information science. 
A 2016 report from the National Science Foundation showed that HBCUs make up 21 of the top 50 institutions for educating African-American graduates who go on to receive their doctorates in science and engineering. And while HBCUs make up just 3 percent of colleges and universities, they produce 27 percent of African-American students with bachelor's degrees in STEM fields.
Ayanna Lynn, a civil engineering master's student at Jackson State University, and process engineer at Nissan Canton said, "I am grateful and proud to work for a company that supports HBCUs. The company is fully committed to their success."
Nissan's Canton, Mississippi facility opened in 2003 and since then Nissan has been finding new and innovative ways to invest in the community. Giving these colleges a leg up provides better pathways for more students to pursue their dreams and Nissan believes every student has that right. It's our duty to investing in students so they will, in turn, invest in their community.
If you feel the same and want to help us support students around the country chase their dreams and achieve more, bring home a Nissan vehicle today. Together we can make our communities a better place – one vehicle and one student at a time. See our inventory online now to start your shopping experience with us today!
Images courtesy of Nissan Media