Margot Robbie Welcomes Next Wave in Sustainable Living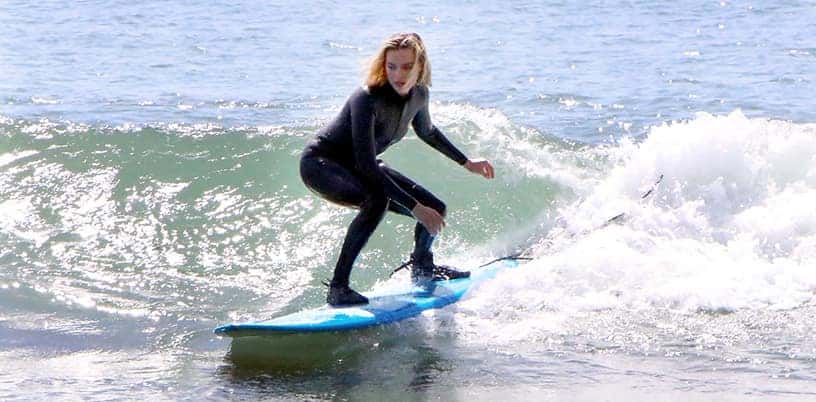 Academy-award nominated actress Margot Robbie pulls on a wetsuit and uses her love of surfing to inspire people to live more sustainable lives in her latest film for Nissan. She invites you to help propel the all-electric movement into the mainstream with her incredible surfing skills and wise words. As Nissan's Electric Vehicle and Sustainability Ambassador, the actress, producer, and businesswoman has composed an open letter to encourage people to make more sustainable energy choices. 
See it now:
Robbie, who performed the surfing sequence herself, is seen enjoying the early morning waves as she talks of creating a "better world for ourselves and everyone who comes after us."
With offshore wind farms and solar panels currently accounting for two-thirds of new power added to the world's grid in 20161, Robbie explains that "we all have the power to make a change."
"I hope I can play a small role in inspiring people across the globe to explore alternative forms of energy and make the switch to drive a better future for everyone," said Robbie. "The point is, we can all make a difference and we don't need to wait for others to do it for us."
Robbie recently helped Nissan unveil its new Formula E car to a VIP crowd at an event in Los Angeles, to celebrate an exciting era for Nissan as it prepares to enter the ABB FIA Formula E Championship in the 2018/19 season. The move will benefit all drivers – as Nissan has committed to taking lessons learned on the track into future commercial electric vehicle development
She drives off in a 2018 Nissan Leaf, the world's best-selling electric car (based on cumulative sales data from Dec 2010 – December 2017 by Nissan). The Leaf gives you instant acceleration thanks to the powerful electric engine that boasts 147 horsepower and 110 kW. You'll get a generous 151 miles of range on a fully charged battery so you have energy for your daily drive and plenty left over for the little surprises life sends your way. Take the long way home, run those extra errands; with the Nissan Leaf, you'll have the energy and the power to do it all.
The Nissan Leaf also keeps you connected, whether seamlessly connecting to your iPhone® with Apple CarPlay™ or providing you with customizable information about your drive. Check your range on a customizable digital information display, connect to your music and navigation, and more. It makes every ride smarter and more fun.
Hop into a 2018 Nissan Leaf today to experience the fun and function of a zero-emissions vehicle. The future of cars is waiting for you. See our online inventory now to start shopping with us!
Images courtesy of Nissan Media