Nissan Builds a 300-HP AWD LEAF, and We Want One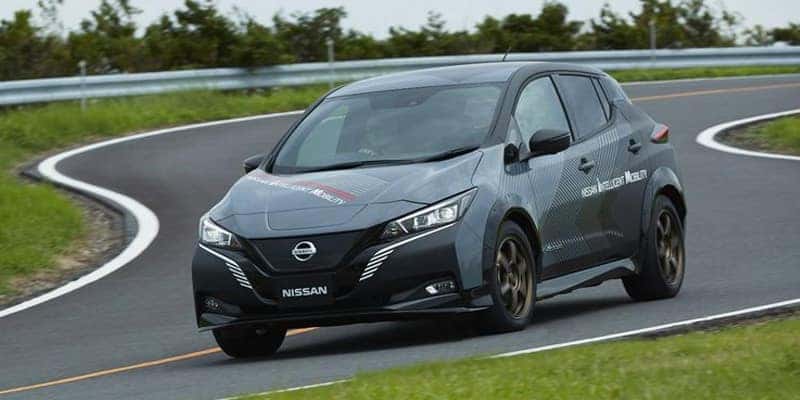 At 214 horsepower in the e+ models, the 2019 Nissan LEAF of no slouch in terms of performance, but it is not a performance car. But with the virtually limitless potential of electric motors and other performance tech in mind, Nissan created a new 309-horsepower, all-wheel-drive test LEAF to preview the brand's EV future
This LEAF e+ tester boasts a two-motor system – one powering the front wheels and one powering the rear – that cranks out a combined 227 kilowatts (309 horsepower) and 680 Nm (501 pound-feet) of torque. Because these motors are mounted front and rear, this tester is an all-wheel-drive rig, but Nissan calls it "all-wheel control."
There is no mention of how quick this EV is, but we can look to the Tesla Model 3 for a rough idea of what to expect. The Standard Range Plus model with 283 horsepower and rear-wheel drive zips to 60 mph in just 5.3 seconds, and the 412-horsepower Long Range model does the same sprint in 4.4 seconds. Logic says this test LEAF should fall somewhere between the two Model 3 versions – maybe the high-four-second range.
This special LEAF was a mule for more than just a new powertrain. It also tested upgraded brakes tuned for performance and comfort. Regenerative front and rear motors help cushion braking and prevent the jerkiness often associated with EV brakes. This system also controls motor speed over bumps to enhance the ride.
Fully independent braking also makes its debut on this tester. This system allows each wheel to brake individually, helping the driver whip through corners without losing speed or control.
There is also a handful of visual and interior updates tested on this zippy EV, starting with a new 12.3-inch display in the center that shows real-time vehicle performance. On the outside, this EV shows off a potential future look for Nissan's more performance-oriented EVs with its staggered rally-style wheels and bulging over-fenders.
When will we see this potent EV here in the Saginaw, Midland, and Bay City areas at Garber Nissan Hyundai? Maybe never, as Nissan only classifies this as a test car. The automaker did, however, mention this technology will eventually make it into production in some form. Stay tuned for updates.
Need an EV today? Head down to our new-car showroom in the Saginaw area and check out our in-stock 2019 Nissan LEAF e+ models. Can't make it today? Navigate to our online inventory page, choose a few in-stock 2019 LEAF models that suit your needs, and set up a test drive that works around your schedule.
Join the Conversation
Comments
comments